Okay, I'll admit, Dodge City, KS, might not be on just everyone's route from southern Wyoming to Chicago, but it was on mine. I've wanted to see where Matt Dillon and Miss Kitty lived and loved for, like, forever. It's been been burning in my brain worse than the White King. My way of thinking was, when are you likely to be back this way again, maybe never? So the trail home led south for awhile, to southeastern Colorado and across the border to southwestern Kansas, and the big Gunsmoke shrine I imagined therein. But there was a lot of driving to do between southern Wyoming and there, and as long as I was going that way, I wanted to stop and visit the Sand Creek Massacre site out in the middle of nowhere in SE Colorado, and it only stayed open until 4:00 pm. Must hurry!
Racetrack for sale! This attractive former dog track property is located just east of Denver, with convenient access to I-70. This is Your Big Chance to run a racetrack the way you know in your heart one should be run! Inquire at the posted number.

The Sand Creek Massacre site, down in the creekbed there. I managed to arrive at 3:30, and luckily the rangers hadn't left yet for the day. I was the only visitor on site, and for that matter, about the only car out on those lonely gravel farm roads. Right now it's a very basic national monument. One of the rangers said a review was coming up that would decide its future. I spent a little more than half an hour, but the rangers were patiently waiting at the gate, and closed up the quiet little park behind me.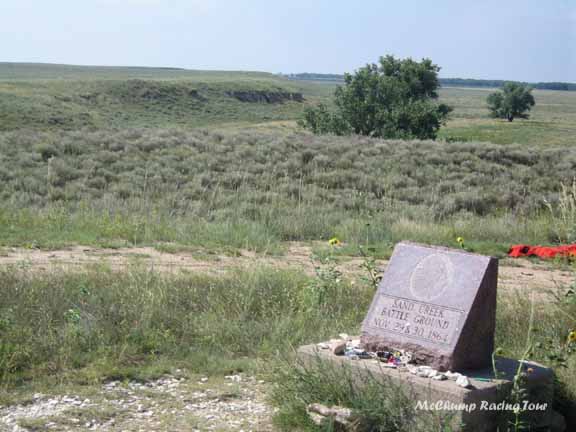 Check these out! I found this former bush track along U.S. 50, just at the Colorado/Kansas border.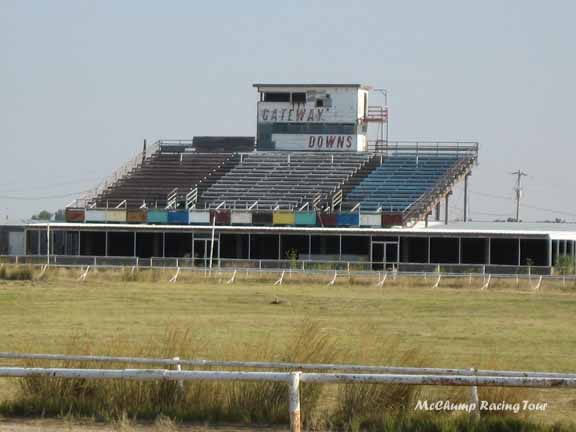 Feed lots like this were the dominant feature in that part of the country, southeastern Colorado and western Kansas. Mile after mile after mile. Smelled like it, too.

Dodge City was a disappointment. The real Front Street was just regular businesses in old buildings. There was a tourist attraction sort of thing named Boot Hill that supposedly recreated the time of the Long Branch, but I didn't want to pay. Didn't have time to visit the real Boot Hill. There was no big Gunsmoke Shrine that I saw. I was bummed. In the early morning light, you can sort of imagine the history, though.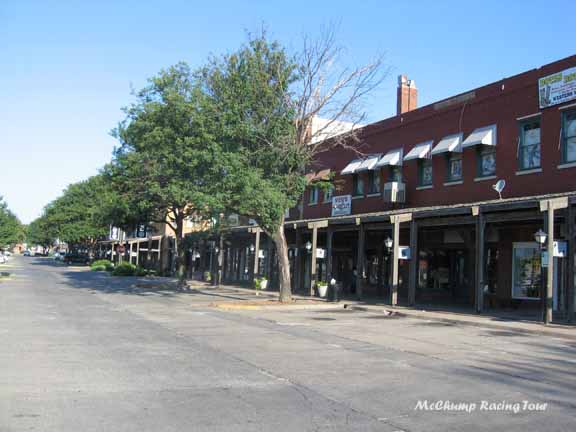 It was time to git along.