Well, I didn't REALLY go all the way to Austin just to visit Manor Downs, but as long as I was in the neighborhood, why not? They got horses. They got wagering. They got beer.
The award winning track architecture from the front entrance.

Check out these comfy stands!

This track always amazes me. That is the reddest dirt I've ever seen anywhere!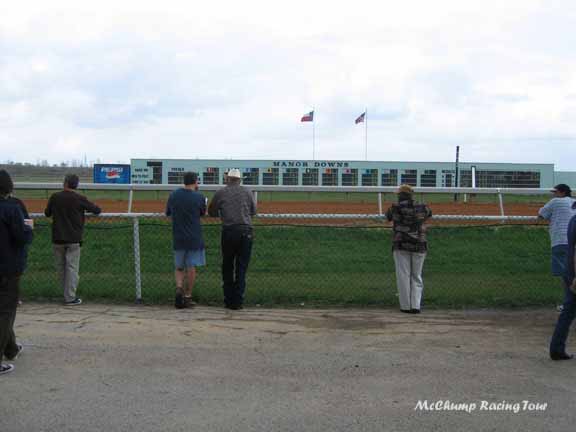 But of course, that's just one day. What really counted this trip was the South by Southwest music festival going on all weekend. McChump #2's been swearing by this thing for years, so I thought it was time to check it out.
It was okay, I guess, but most of the bands were these whiny little arty things, and for any performer with a name, the cover charges were ridiculous, if you could even get in the places at all they were so jammed. All of Sixth Street was jammed, all the time. It was pretty uncomfortable, and I wasn't that impressed. Stumbling around Sixth Street all week was kind of fun, though. It's like Bourbon Street in Austin, without the idiots offering to guess "where you got them shoes". And we did get to see a few good shows.
Some revelers on Sixth.

Some more revelers.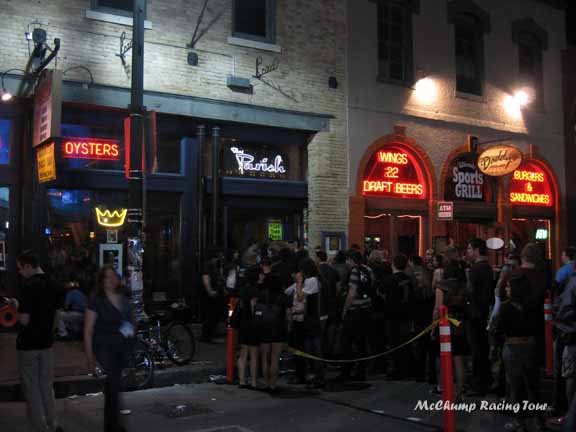 One thing about Austin - Great BBQ! This place was especially good, and others were better! It was a BBQ kind of week.

Okay, now we get down to it. Chicago's own New Duncan Imperials were playing "off SXSW" at the Continental Club.

What a great show! While waiting for NDI we got to see Dash Rip Rock and Chili Cold Blood, and Mojo Nixon was our host, claiming he was "F***ed up beyond the highest degree of f***tivity", a state of mind I'd personally never heard of before, but was pleased to learn about even at this late stage of life. Finally it was time for NDI, and they even got Mojo up on stage for a couple tunes. Mojo and NDI ... now that rules. Plus, NDI even did McChump #2's all time favorite ... Evil Uncle Bud.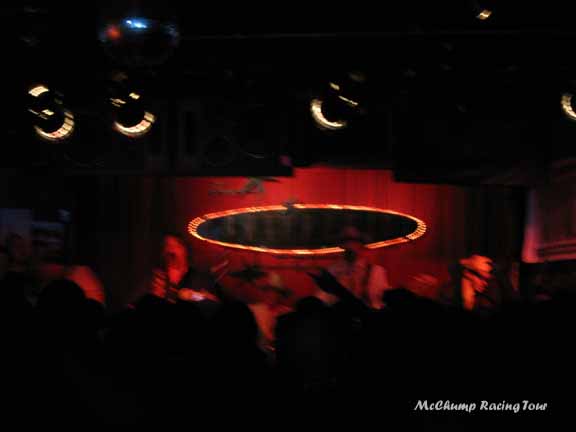 Velour!