McChump #2 headed north to the ocean after Solano, but I was headed inland. And, with almost two whole days before my next racetrack visit, I had plenty of time to drive little roads and visit the volcanic country.
Lassen Volcanic National Park in California, and the collapsed volcano. If you want deserted and out of the way, this is the national park for you.

The north side of Mt. Shasta, almost to the Oregon border.

Crater Lake National Park, of course.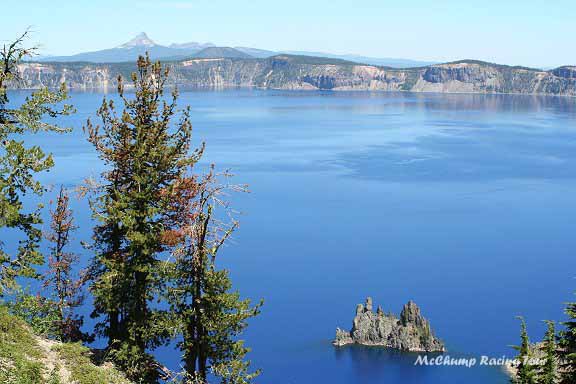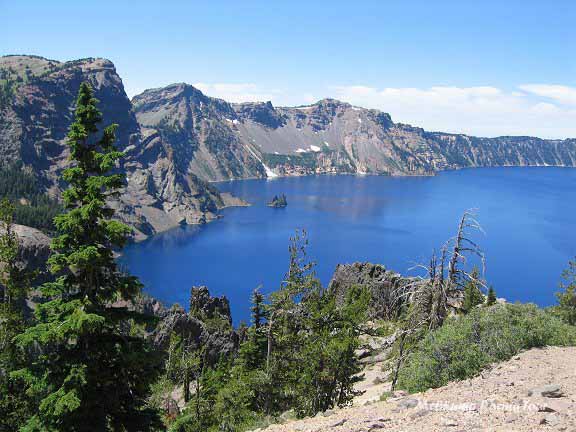 But finally it was Friday night, and time for the Crooked River Roundup in hot, smoky Prineville, OR.
Wow! Would you look at the length of those stands! (A very cheesy fair midway is behind me. Not even worth 1 picture.) Admission and program: $5.

Nice selection of concessions out back, even if they did run out of any non-light beer before the first race. There was also a cowboy bar with the hard stuff at the right end of the stands. Beer tickets $3, and a very tasty pulled pork sandwich, $5. Hot dog $2.50 if you were into that.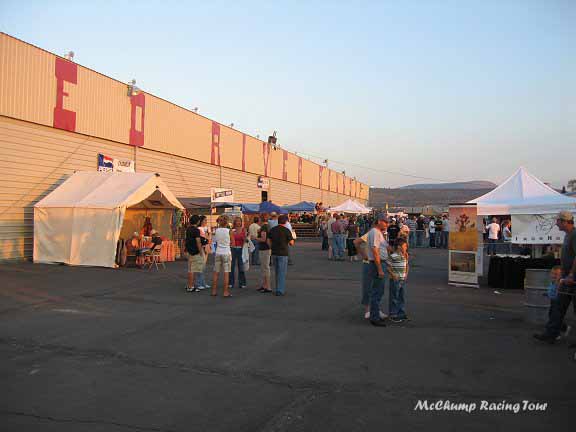 The grandstand was ancient wood, and only had like 14 rows of benches, with a couple boxes down front. Everyone was close up.

The flag was presented by the rodeo queen, of course. The program said she was new, and so looking forward to beginning her reign! Her reign so far seemed to consist mostly of leading post parades, and getting in Winner's Circle photos.

No question who owns this paddock!

Your standard fair/rodeo type infield and Winner's Circle setup.

Now I gotta say, the Crooked River Roundup was one pleasant surprise, and not just for the tasty food items out back. It was a big crowd, and everyone was having a blast. Jockey Ty Dangerfield was on hand once again, and tonight his hair was blue.
But mostly, for me, our announcer (program says Dean Mazzuca) had the most to do with it. This guy was just about insane, in a good kind of way.
We had a rather painful rendition of the Star Spangled Banner sung by some local lovely, and he announces, "Boy! I get to listen to that thing five straight nights!" Everything during the races was over the top and exaggerated, too. When a tri would pay a big price, he'd announce it and add, almost yelling, "That's what we like in PRIIIIIIIINVEVILLE! THOUUUUUUSANDS of dollars!!!!!". Or when the horse Flaming Liberal won a race, he made quite a fuss of that one, out in the middle of very conservative cowboy country. "Folks, can you believe a FLAMING LIBERAL won in PRIIIIIIIIIIINEVILLE?" And before every race, as the horses headed for the gate, "Holy cow! Would you look at that, folks? Another race is about to break out!" All the time all night long, yakking about something and going on, or embarrassing some group of patrons by pointing them out - he was awesome. He had me cracking up all night.
The Crooked River Roundup gets a big leg up in the ultracompetitive Podunk Track of the Year competition for 2007. Another two thumbs up!