Okay, I'll admit, Elko, Nevada, might not be on just everyone's route from Billings, MT, to Chicago, but it was on mine. Mainly to see a racetrack I hadn't seen before, but also to see The White King, who had gripped my imagination ever since McChump #2 discovered this amazing ferocious roadside attraction when he stopped in Elko a year or so back.
So, after a leisurely drive from Ogden past the Great Salt Lake, and helped not to be late by the fact that I'd forgot about time zone change, I zoomed into Elko on I-80 just before post time, quickly zipped past the fairgrounds on my left, took the next exit in a panic, started doubling back on surface streets, and there, right alongside of the road ...
The White King! I didn't stop though ... must get to track ... mustn't miss first post.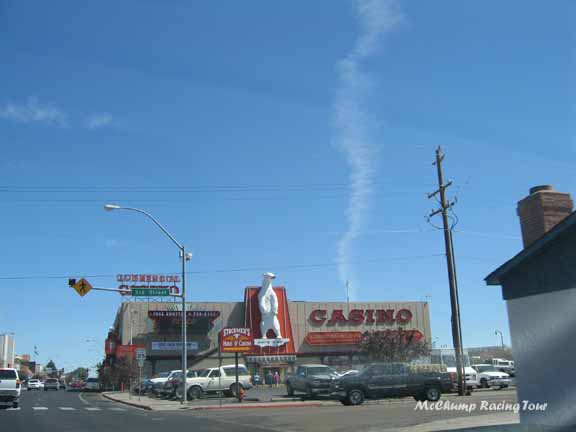 I thought this was an interesting notice at the entrance. There was also something going on to "Save Racing and Our Fairgrounds", but I didn't check it out. Apparently things might not be all rosy with Elko racing or maybe the Elko fairgrounds. There might have been a $6 admission, or maybe not - at any rate, I just walked in like I owned the joint. Program: $3.

It's a slightly nicer than normal county fair facility, with some real grass areas and a decent paddock. Good selection of beers down under the stands for $3, and a couple local groups selling concessions from small stands out back. Tasty hamburger: $3.

There was some doin's going on before the racing, with young people on horses running around in the rodeo area out front. First they would ride around, then chase a calf for awhile and try to make it go different places, then rope that calf, and finally pull the calf around the arena. It was called "versatility ranch horse". I didn't get it. That gave me plenty of time to peer aound at the horizon and see what there was to see in Elko.
The home of cowboy poetry? Who knew?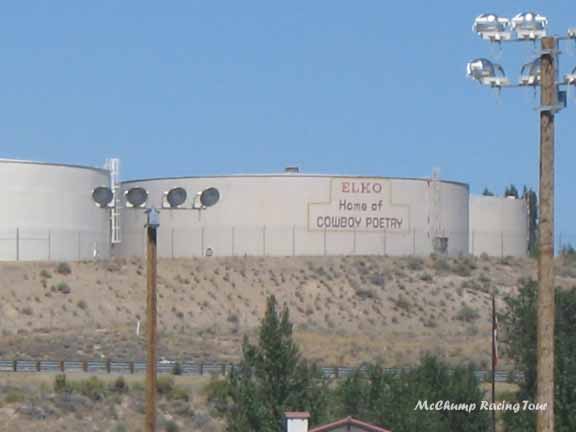 But finally, it was time to start saddling them up for racing. Nice paddock!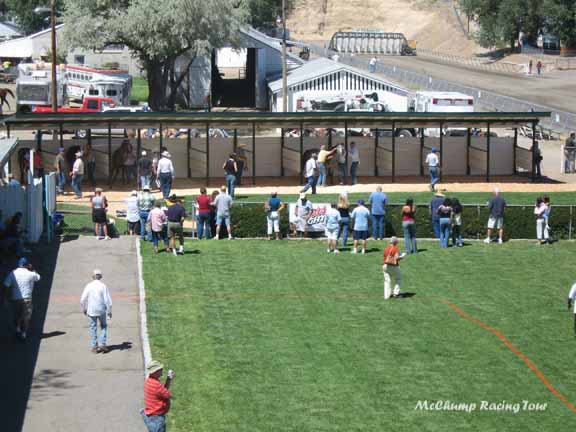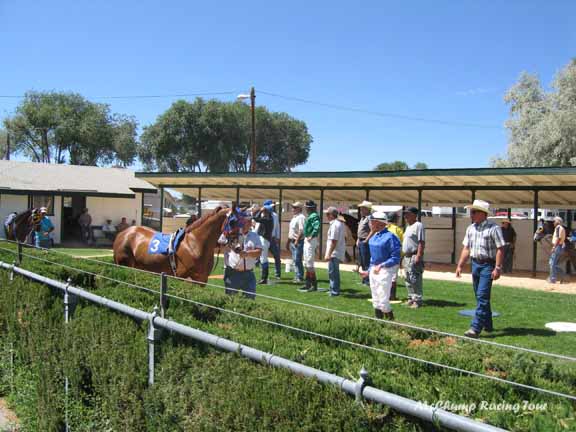 Post parade.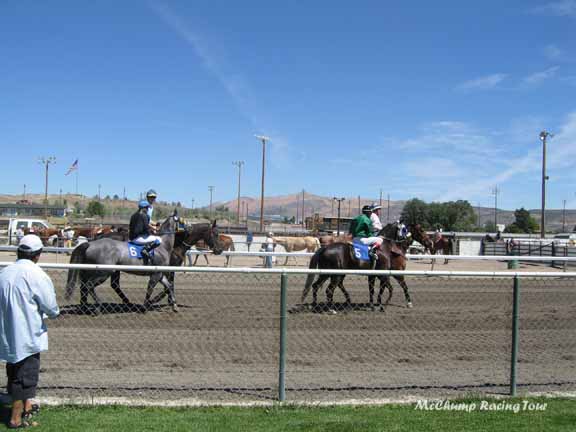 Out of the gate.

Winners!

It was an exciting day of racing, highlighted by the 8 horse in the 4th, that tossed its jock in the post parade, led everyone for a merry chase two full laps around the track, got collared, and was still stuffed in the starting gate. Stunningly, tt didn't win.
I cashed a few tickets on the day, but didn't get rich. The card was 11 races, but I couldn't stay for all, as the intinerary said overnight in Rock Springs, Wyoming, and that was a little bit of a drive coming up, especially losing that time zone hour I'd forgot about.
And then of course, clear across Utah, middle of the night, middle of nowhere, stop and go freeway backup for miles on the Utah/Wyoming border for no good reason didn't help a lot, either. How I cursed that manual transmission then. It was a long day of driving. I had fun, Elko, but geez ... you and the White king are just too far from anywhere.