Well. Here we are again at the baseball park, and guess what? The White Sox stink beyond belief. This is one of the worst seasons I have ever suffered through. It is once again time for a young man to turn his attention to the racetrack, quickly.
Turns out all those bloggers always telling us Hawthorne won't spend money on improvements are of the "don't know what they are talking about" type. With the return of racing to Stickney in the Fall, a whole slew of new features greeted the stalwart racegoers. We got a new dirt track surface, a turf course replanted with tougher grass that looks fabulous, plus:
1st floor - a new table (dining?) area in the horsemen's lounge, as well as a nice new little wood deck out front. A few more nice flat screens around the central bar.
2nd floor - New flat screen TV's everywhere, including in the Gold Cup room. The center bank of TV's relocated to be high enough you can actually see them.
3rd floor - not much I could see, except maybe some pigeon netting repaired. More work still needed in that area. It's still the best floor of all.
Infield - The hated concert bleachers removed. Little stages set up elsewhere, and what looks like some concession stands. Could Infield Fun be back? All lights on the toteboard working. Infield looks great.
Snappy new interior banners, and some new advertising signs, for current things, as opposed to promotions of 10 years ago.
There's one mystery: "What happened to the anthem?" Apparently there was no anthem on Opening weekend, and the regular players were very uneasy with something being different. (It turned out, the anthem no longer happens at the same exact 30 mtp every day. Some days it's even a whole hour before post.)
Snappy indoor banners.

Well, it seems I attended the $500,000 GII Hawthorne Gold Cup this year, as a I have a marked up program and pp's, and that banner picture above is dated Gold Cup Day, but somehow I neglected to take any pictures of the event itself. Perhaps that was due the exhilarating nature of the six horse race, and the immortal horses entered therein. A.P. Arrow, he was in it. I recognized his name from somewhere. At any rate, the Internet says it was won by that immortal horse Student Council, trouncing his relatively few stalwart rivals while making his first start for supertrainer Steve Asmussen. What a horse! What a training job!
But ... the real reason people came out in droves this year to Hawthorne was ... girls! That's right: girls, girls, girls. Get your picture taken with Miss Illinois, ogle the Budweiser girls, whatever. The Friday After Thanksgiving Guy's Day event for Illinois Derby Day was a classic. The WLUP Rock Girl was going to be there, and you could get your picture taken with her, or get her calendar, and maybe an autograph. Cigars and a whole bunch of other guy stuff was on sale, and some other junk nobody I know would buy. (Come on ... a picture of the 2005 Champion White Sox autographed by all the players for a low, low $1875 ... on the 1st floor of Hawthorne? Spare me. But it was nice to see.) Mystery vouchers abounded. Free junk abounded.
Best of all, there was going to be a special race on the card, between Hawthorne GM Jim Miller and four girls, including the WLUP Rock Girl, our paddock hostess Katie, and some other girls who I don't know who they were but they were pretty sweet. When you walked in the door, you got a free ticket on one of them, and if your "horse" came in, you won a free WLUP long sleeve shirt. Cool! Well, I drew the #5,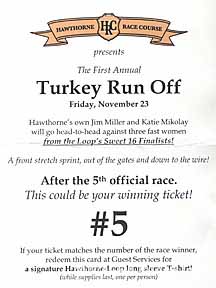 and it turned out the #5 was Hawthorne GM Jim Miller, a former minor league baseball athlete. Versus 4 girls. Sweet! It was only minorly troubling that the track had come up very muddy; Jim should cruise. I might have missed pictures of the Gold Cup, but I wasn't missing this.
The post parade went well enough, with lots of banter between the apron crowd and the #5, and as the girls milled around and then loaded in the gate there was plenty of speculation from the railbirds as to which were lathering up, and which needed a rubdown, and so on, but what's this, chump? Hawthorne GM Jim Miller is taking a handicap, announced as because he's a gelding competing against fillies, and is lining up like 50 feet behind the gate, which is kind of serious handicap in a race that's about 50 yards long to begin with, and ... well, you know what happened. The gate sprung open, the girls bounded forward boldly down the track, and poor old Jim Miller got a horrible start - or, more likely stiffed - and finished dead last to a BUNCH OF GIRLS! My ticket never had a chance, and all I got is this postcard. Oh well. At least our paddock hostess Katie won the race, to salvage the good name of Hawthorne Racecourse. That's her there, #1 showing good gate speed. Way to go Katie!

Yes, it was a Fall of racing to remember.