After a free 3rd of July city fireworks show just outside my groovy motel in Corvallis, a leisurely drive down I-5 brought me to the Josephine County Fairgrounds in beautiful Grants Pass, OR, located in the mountain country of southern Oregon, almost to California.

The fairgrounds is located in kind of the southwest, industrial quarter of the town. The lot was already full when I got there; the folks had turned out in droves for the 4th of July card. Admission: $2; Program: $3.
Finest Soviet-era architecture grandstand.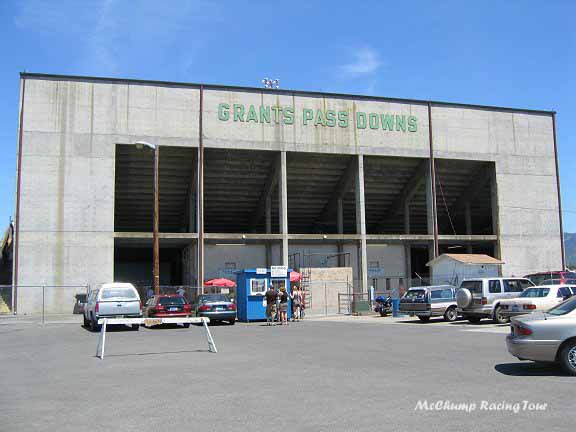 Someone has to say it, and I am that someone: Tied with the Brown County Fair for ugliest infield in all of American racing, maybe all of North America.

Snappy paddock ... and the jocks got to use the YMCA building, behind.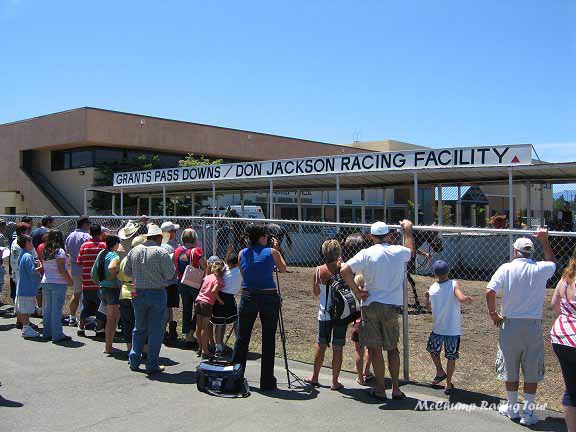 Kickin' up dust. Note the convenient in-stands betting windows in the little wooden bettin' shack.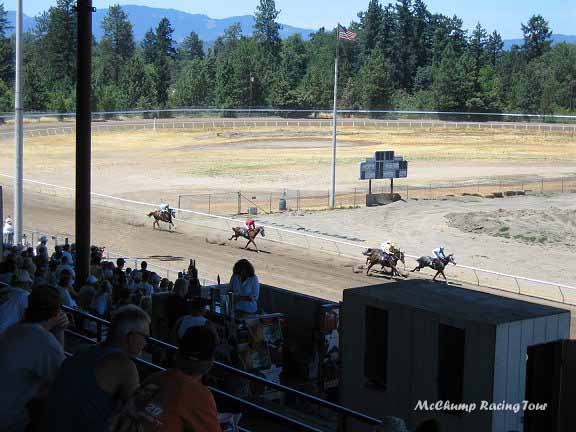 A functional structure. Sturdy! And best of all, shady!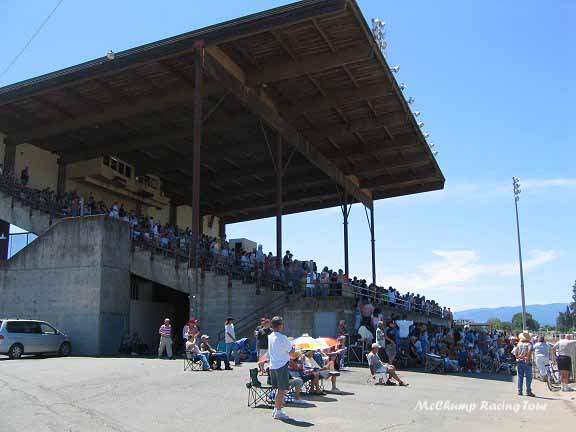 Jockey Ty Dangerfield's salute to the 4th.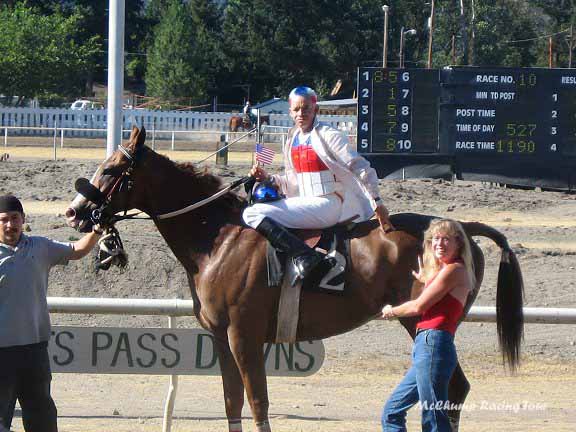 Added bonus! Non-wagering chariot exhibition race.

A very hot afternoon at a dusty track. Great people having fun, though, and good looking women! A real BIG hotdog for $4, too, and beers were reasonable, though the choice was quite limited. Besides, I made $55 - that always helps. As I left, the PA announcer was telling the folks that yes, the scheduled fireworks show would still go on that night, despite the fact that the fireworks fund was substantially in the red, and the local fishwrapper had reported there'd be no show. Stupid fishwrapper. Later that night I could see the fireworks show at the fairgrounds in the distance, as well as many smaller less organized ones, from the window of my motel up the hill. Fireworks exploding above the whole town. Nice scene, Grant's Pass.