Well, first and foremost, as long as you're driving from Hot Springs to Montana via Oklahoma City anyhow, you might as well stop by Blue Ribbon Downs and see how it's flourishing in its new incarnation as an Indian casino, even if it isn't running races. Look at that! It has a slightly new awning out front! Otherwise, it looks as tired and worn out as ever! Empty, empty parking lot, as well. I don't think slots are doing this track all that much good. Oh well. I didn't bother to go in. For what, stupid machines?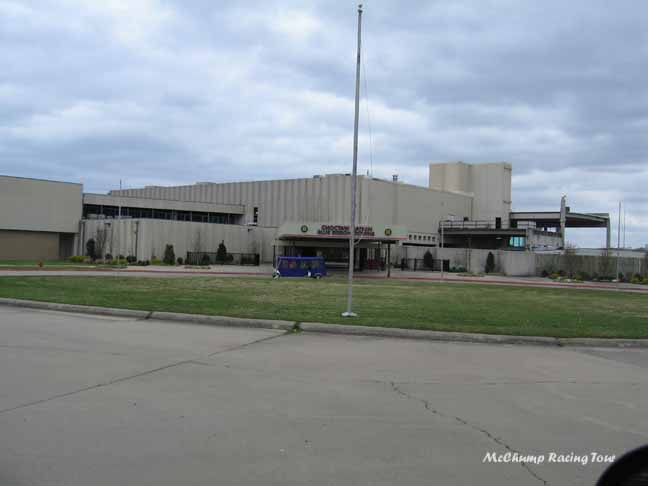 Finally I'd arrived. The new slots track, the glory of Magna Entertainment, the revival of horse racing in Oklahoma, Remington Park! Or, as it simply reads out front now, CASINO.
Well now, as anyone can plainly see, the casino part of this place has been added on down there on the left side, presumably so as not to crowd out and bother the thousands of horse racing customers attracted by the new higher purses and the better quality of horse they will surely lure, according to The Gospel of Slot Racing. I thought I had better go in and check that casino out, anyhow. It was kind of small, semi-busy, and not real special, as far as casinos go. Kind of a trick finding one's way from casino to track, too.
Wow, what a whopper crowd there was on this nice, though cool, Sunday evening. I'd say somewhere in the neighborhood of maybe 100, all told, and those mostly horsemen. Okay, it was quarter horse season, but I'd visited during quarter horse season before, and it was far busier than this. Just look at this crowd spilling out across the apron. Why, you could hardly move!

One positive thing, the racing plant was looking a lot cleaner and well-cared for than the last time I was there, right after Magna took over. Of course, there was hardly anyone in there to dirty the place up, but the paddock area out back was looking nicer than usual, the fountain was fixed, and the statue of Pat Steinberg was cleaned up, dusted off, and the cobwebs all gone. Last time was a disgrace.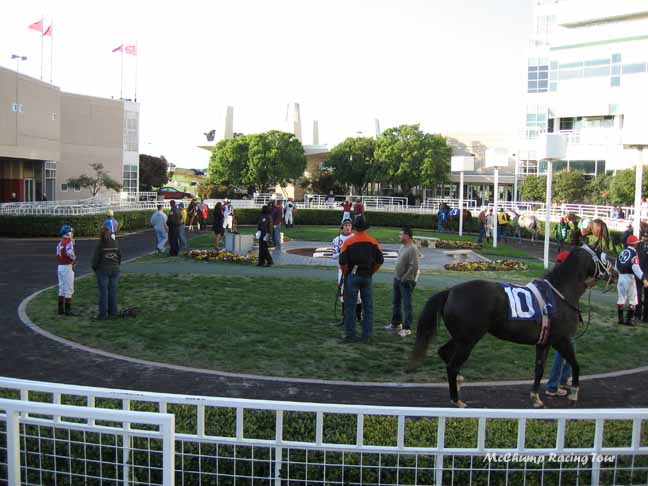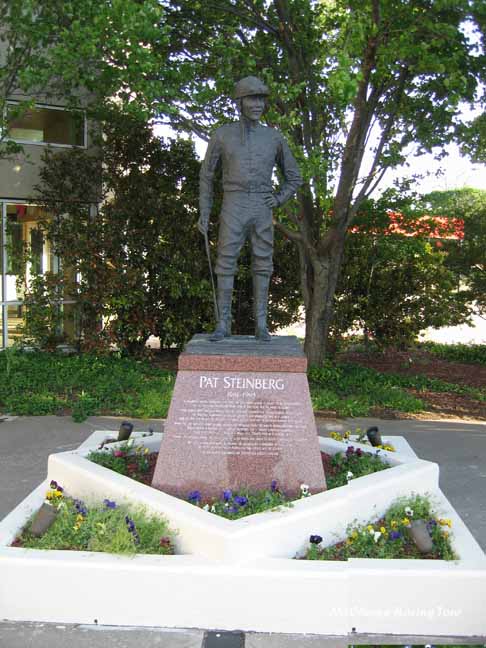 On the positive side, they'd taken down the fences around the paddock area, so admission was now free. Not too many Oklahomans taking advantage of that bargain that I saw, though. Jury's out on this one being a big score for The Gospel of Slot Racing. Next.