Fleeing Sunland Park and Homeland Security's Wall bright and early, the McChump Tour departed Texas and set out for the (hopefully) less oppressive environs of Arizona. McChump #2 led the way in the mighty, mighty 'Bird, calling back at some point to warn me of a Border Patrol stop somewhere ahead on I-10 in the middle of New Mexico. The little tomatoes went to cover. Sort of. As I suspected, however, the Border Patrol was not truly interested in little tomatoes. Once they deduced I hauled no Mexicans, there was no further search, I was waved through with white man's impunity, and the little tomatoes continued their journey undisturbed, even though I only did a half a** job of hiding them. Bwa ha ha! Tomato smuggler!
Somewhat later, and much further south, on a quiet, definitely non-Interstate highway, just about on the NM-AZ border, a monument to the (final) surrender of Geronimo suddenly appeared. Swept by, and drew me back. What a still, deserted place, on land you'd find it hard to believe anyone would find it necessary to chase Indians off.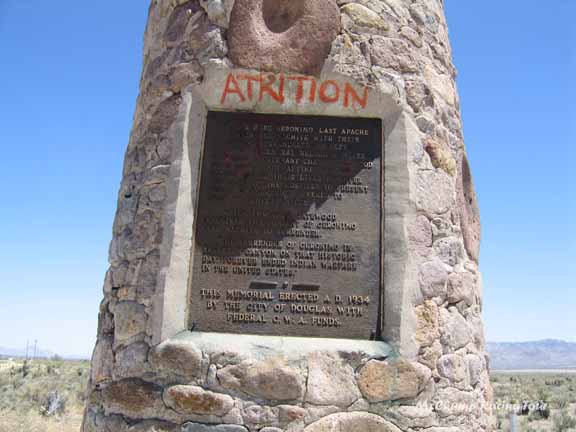 Whew! Enough introspection for one day, and today it was over by noon. Geronimo of course wasn't really the reason the McChump Tour was headed to Douglas, AZ, an ancient and slightly forgotten mining town right on the AZ-Mexico border this fine day ... No! It was horse racing! Specifically, the fine horse racing associated with the many Arizona fair meets, and today, the horse racing at the Cochise County Fairgrounds just on the north side of Douglas. The Chumpmobile and tomatoes stayed in the parking lot. I headed in.
Note the stunning, historic, architecturally significant entrance structure. Any expert will tell you, an arrow saying Entrance is the original trademark of quality! Absolutely muy, muy!

Lots of interesting stuff out back of the historic grandstands, including food, beer, a famous entertainer from nearby Agua Prieta serenading us all with many Mexican boombox favorites, a horse raffle, and of course, the paddock. Muy, muy!

Many friendly folks!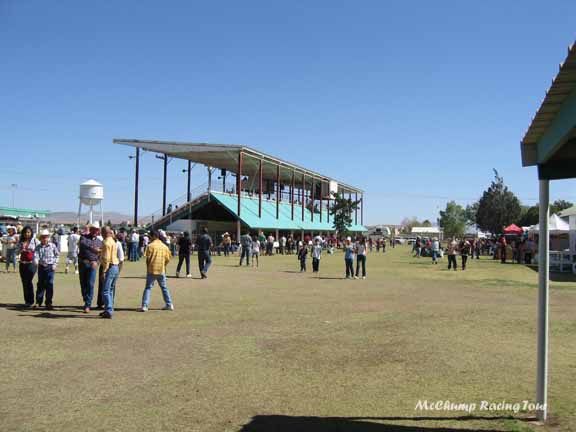 Now admit it, do you find high tech equipment, landscaping, and scenery like this at the big "name" tracks? I think not!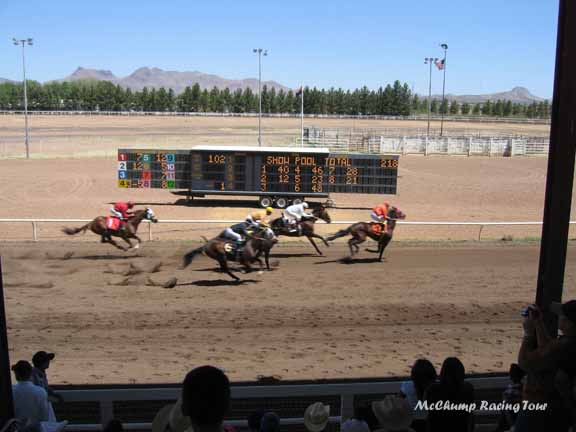 Yet, all too soon, the racing day was over, and it was time to head out, for what possibly promised to be an exicting evening in another old mining town, and hippie hideaway, Bisbee, AZ. Only, Bisbee was kind of a letdown. An evening on "the strip" consisted of four bars with some shaky locals, and was over in about 1-1/2 hrs. Quite overrated, chump. Not at all muy, muy.
The evening's digs were pretty cool, though, the historic Copper Queen hotel. This hotel is reputed to be filled with ghosts. There's even a ghost sighting register on the lobby desk, where guests can record their spooky ghost encounters and sightings. Woooooo-oooooo! It's pretty full, too. According to the hotel literature, the ghosts tended to stick close to certain areas, and we must have been quartered at the wrong end of a wrong floor, or something. For, tragically, no ghosts were spotted by either McChump #2 or me. The Copper Queen ghost register has no record of our stay.

What really P.O.'ed McChump #2 the next morning, though, was evidence someone had tried to mess with, and possibly break into, the mighty 'Bird overnight. Damn hippies! Or, maybe it was ghosts.