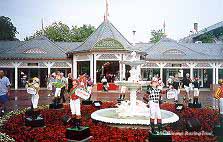 -- Wednesday, August 2, morning, driving the streets of Saratoga Springs
Okaaayyyyy ... I've been reading people's opinions of Saratoga Springs for some years now, and it looks about like advertised. Kinda touristy. Kinda quaint. Kinda little. Some really cool old houses. And all those businesses they've been raving about ... Parting Glass, Wishing Well, McDonald's ... yeah, they're there. So I'll admit - it might be an interesting place to spend a few days or maybe a week. People might be right about it.
-- Wednesday, August 2, 10:15 or so, National Horse Racing Museum
I probably shouldn't say this as it'll get some folks all hot and bothered, but I actually liked the British racing museum in Newmarket better. Dunno why, exactly - it's like there was just more of everything. Like more of the British racing nobility had coughed up more of their trophies and so on to fill the museum. But this is certainly no slouch of a museum itself. If I hadn't seen that other first, I probably wouldn't have known to be critical. And there were two things I really, really liked and spent a lot of time looking at.
The first was a display about the (I believe) Kelso Fan Club. Love letters and fan letters directed to a horse way back then, books and comic books about him, handmade fan posters, and blankets lovingly stitched and sent. The kids that run today's horse fan clubs have a lot to learn. And the other item I stared at was simply a conformation photo of Man O' War. What a magnificent animal! And what bone that horse had! His front legs look like those of a Clydesdale in comparison to today's spindly-legged product. No doubt in my mind the answer to the great debate about the cause of the fragility of today's thoroughbred.
-- Wednesday, August 2, 11:30 or so, the porch at the Casa McNiff
Internet correspondent John M. had kindly invited me to stop by his house, just a few short blocks from the track, park there, and walk on over rather than hassling with trying to get closer or paying. That was mighty kind. And so was the offer of a nice cold Tecate beer, and filling me in on all the changes and scratches for the day. As if I had done any prior handicapping from the $2.00 off-track program I'd picked up at a gas station on the way earlier that morning.
"Should I take my umbrella, do you think?", asked I as departure time rolled around, looking up at a sky that had potential to melt down in mere seconds, at least to my untrained Midwestern eye. But so far it hasn't rained on me yet today, and that's a good sign, right? Even if there is so much moisture in the air that my clothes cling and feel like they weigh 50 pounds?
"Nah. It should be nice today", came the answer from John. That's the answer I wanted to hear! No more supid rain! And so my umbrella stayed in the car.
-- Wednesday, August 2, 12:30 or so, Saratoga Racecourse
Nice walk over, through the neighborhoods with the big old houses, past the famous Siro's (a big old rambling white place with a huge outdoor seating area) just west of the track, past a huge line of street vendors like you'd see outside Wrigley Field, selling all sorts of unauthorized Saratoga type of junk, to the west gate, a big dropoff/valet parking circle with a big flowerbed in the middle featuring a nice fountain and a whole slew of colorful lawn jockeys painted up in the silks of the owners who'd won races the year before, and there it was, Saratoga Racecourse, the subject of many a story and fable.
Admission on the day, clubhouse, was, well gosh, I forgot to write it down. But it wasn't a whole lot, or I would have remembered that.
John took me on a short walking tour of the place before we headed up to the seats, showing me where everything was out back in the huge, huge tree shaded picnic park behind the stands, as well as all the changes NYRA's been making recently, like the jockey silks room, and the tasteful new administration buildings out back that fit in quite naturally to the whole scheme IMHO. My personal feeling was NYRA had done a good job making the new fit in with the old. John also showed me the location of the Big Red Spring so I could come out and try it later, as I'd read earlier in the week on the Internet where someone named Clocker Bob had said if you go to Saratoga and don't try that water you may as well have gone to Delaware Park, so I didn't want to fall into that crowd, much less invoke the wrath of the infamous Clocker Bob.
My first impression of Saratoga from this little tour was this: There was no way I could write down enough notes about this beautiful place in one afternoon for a proper McChump writeup. First of all it's too big, and secondly there's way too much going on in the line of food stands and beer stands and nooks and crannies and staircases. I'd come out a little later and at least give it a try, for I am after all, a trained professional. But for now it was time for racing!
John's seats were located in a good spot on the stretch, pretty close to the clubhouse end and the hereditary boxes, pretty close to beer stands which were presently patronized, and had a real good view of the proceedings. The only thing I could fault was the roof stanchions that are down front and partially block the view, as well the the TV monitor on our particular stanchion, which seemed to be on the fritz. But those are minor quibbles. I hadn't been quite sure what to expect of a wooden grandstand structure, having seen a few of those in my day, but this one is definitely deluxe, with boards that actually fit together, and no warps and slivers, and everything. No air conditioning, naturally, being an open stand, and it was still a hot and humid day even all these blocks from John's house, so that was a bit uncomfortable. But all in all a deluxe, beautiful, comfy old grandstand.
As it was a not-so-busy Wednesday (an intentional plan, btw, thank you), there were plenty of empty seats around John's so I could sit up there awhile even without a seat pass. The ushers weren't checking too close.
The view out front is deluxe, too, with the two turf courses set up inside the dirt, huge old trees everywhere in the background, and a plush green well-landscaped infield that I failed to write down anything about or take a picture of, but it's a nice one, take my word.
All the regular grass races were taken off for the day, but the first race on the card, a steeplechase race was still on. John announced to his wife and me that he was going with the favorite, I think Perfect Match, who he expected to run away and hide. I personally thought the #4 horse, Homage, had a great chance based on his saddlecloth number, and went with that one. John's horse did exactly as expected, while mine labored around the course and over the jumps until finally just past the 1-1/2 mile point on the backstretch, he did not reappear after going over a jump. The ambulance and the horse ambulance went over to that general vicinity while the rest of the race finished out. What became of Homage and his jockey Carl Llewellen I do not know.
[ It should be noted here, for the edification of those concerned about the NYRA Boycott, that the McChump Industries board had conducted an emergency meeting prior to this trip, and after much soul-searching had reached the conclusion that a one day suspension of the boycott probably wouldn't hurt anything, as the principle of betting on live races going off in front of your face is a much higher principle than anything involving NYRA.
In the 2nd I also thought the #4 horse, Quick Sez Me, had a real good chance, while John favored another. John's horse won; mine did not finish in the top four. I was beginning to develop a healthy appreciation for John's handicapping abilities and beginning to harbor doubts about the venerable 4 methodology.
The 3rd brought about a 7f dirt allowance event, and I jumped off the 4 train and onto the 2 train, as the #2 horse, Hemline, showed his best runs at 7f. IMHO. Plus he showed that greatest of all physical traits - leading in the post parade as they stretched out. "Lead in the post parade; lead at the end", that's what I sometimes say. And for some reason even though he was the 5-2 m/l 3rd choice before the scratch of the favorite, the crowd was letting him go off at 7-1. A horse on sale. That's three separate handicapping factors in favor of this horse. John favored another, and questioned my integrity for jumping off the 4 wagon so quickly, but I stuck to my guns and at least regained a shred of dignity when Hemline won paying $16.20/$7.00 WP and got my head back above water.
Same old story in the 4th, though. John's horse won, and my WP horse finished 3rd.
It was time by then for me to do some further exploring of the place, however, so I thanked John for everything including the beers, bid his wife and him adieu, and headed on downstairs, with John's UPF best bet, Bourbon Belle in the featured Honorable Miss stakes, safely circled in the program.
First stop was downstairs, and out onto the apron, to get a good square look at the place from the front. VERY impressive. Much bigger than what I'd expected, at least lengthwise, and a huge nice apron with plenty of freebie bench seating. Good looking, too. What's more, down here on the apron, you can see the NYRA tractors real close up as they groom the track, and they are some real groovy tricycle type tractors, real big ones, as befit an important state like New York. The apron, however, did not help my handicapping any, as my 5th race horse did not even hit the board. Damn!
The time had come to wander out back, and that's where I'd been dying to explore ever since I saw all the little stands and festive candycane tenting when I first walked through the gate. This big park out back is a chump's delight, for sure. Or, it would be, had it not started to rain. However, all that candycane tenting serves a mighty fine purpose, as it provides cover to walk from here and there out back even when there is rain. I suspect that they have experienced rain at Saratoga before. The candycane tenting does tend to obscure some of the really nice architectural details of the track, like for instance the beautiful copper roofing, but I kind of appreciated being dry.
First stop was a beer stand, and there are more than plenty of these, serving up a wide variety of tasty selections, like Molson, Fosters, Labatt's, Guinness, Bass, and who knows what all. Very very big points in this department for Saratoga, although I must admit, again, I didn't write down a price. I think they were maybe a bit expensive.
Next stop out back was a trip to the fabled Saratoga paddock to see all the big trees and so on. Unfortunately, due to the intermittent rain, the horses mostly stayed close to the saddling stalls in the back, while a tasteful but sturdy white fence kept the crowd at bay, so it was a bit difficult to see much up close, which was kind of disappointing.
Right about then I wandered back up front, through the crowded little area under the clubhouse (crowded because everyone was inside), past the little semi-outdoor dining area there, onto the clubhouse apron, and watched in the 6th as a horse I'd bet only to win came in 2nd. Ah yes.
Back out exploring the park I came upon the Big Red Spring. The water spewed out into the bowl, staining it a dark rusty red. Very small paper cups were there, very small, about the size you put ketchup in at McDonald's. I watched as a gentleman took a wary sip from his cup. I watched his face crinkle. I watched him toss his 7/8th's full little cup at the trash. I watched him walk away. I turned to the Spring and contemplated it. No, Clocker Bob will not be calling ME a chicken! I filled my cup, put it to my mouth, and sipped gingerly.
Those of you who live or have lived in an older building, one without a water softener - you know how when you come home after being gone like maybe a week and you first turn on the water and all that brown rusty nasty looking water comes out and you just say "yeee-uuuck!"? Well now, imagine if you took some of that water and added a Fizzy to it, not a good-flavored Fizzy or anything, but maybe a roofing-nail flavored Fizzy. That's about the best I can describe the taste of the water from the Big Red Spring. 7/8th's of my cup hit the trash, too.
Following this pleasurable event, it was necessary to find something else to stimulate my tastebuds, and fast. What I found was a nice little food stand right back there close to the Big Red Spring that sold some very tasty, melt-in-your-mouth, pork barbecue sandwiches for like $5, and it was worth every bit of it.
Seventh race, if I'd been thinking about it, would have been the spot to make my UPF bet, as Debby d'Or was a standout, and far from her 6-1 m/l, was a heavy favorite. But I couldn't bet her at a price like that! So I took my lumps, choosing the horse that finished 3rd behind Debby.
More exploring out back. What a treasure trove of concessions this is! Something for everyone, and a wide wide variety. Somewhere along the line I also inhaled a tasty sausage thingy with all sorts of grilled peppers and onions, also $5. Excellent. Even one stand selling wine, champagne, and shrimp. Definitely high marks for variety, and all set in a beautiful, beautiful picnic park. Although most of the picknickers were scrambling to pack up and run for cover by this point, as the rain had returned, with a vengeance this time. The only type of concessions that were disappointing were the gifts in the NYRA Store booths. Way better t-shirts and stuff outside.
Eighth race, time to make a UPF bet. I went with the favorite in that, Flirtatious, who returned a cool $3.60 to win, plus a $17.20 exacta I'd made for myself.
By this time pretty much everyone was staying inside, down under the stands, and I can't say as this was real pleasant, as it was hot, humid, close, and crowded. The featured 9th came around, and John's choice, Bourbon Belle, was the easiest of winners at $7.20. Good day for UPF.
A lull in the rain. A chance to escape, dry, which I'd been cursing someone about who told me to leave my umbrella behind. So I did, skipping the 10th in favor of a dry walk back to my car, and also so I could get to the Albany airport on time.
All in all, I think we'll give Saratoga a huge two thumbs up, from every angle except weather, and put it on the list of places to come back and visit again some day. Some day with a lot more time. In fact, I'll go that a bit further. This is, IMHO, one of the world's great race tracks, and I did myself a disservice by avoiding it for so long, simply due to the outlander's natural (but well-founded) hatred of anything New York.
The book that was along for plane rides and motel nights on this trip was "Main Street", by Sinclair Lewis. There's a little introduction to it, right up front, which I found oddly appropriate, and it reads as follows:
"Main Street is the climax of civilization. That this Ford car might stand in front of the Bon Ton store, Hannibal invaded Rome and Erasmus wrote in Oxford cloisters. What Ole Jensen the grocer says to Ezra Stowbody the banker is the new law for London, Prague, and the unprofitable isles of the sea; whatever Ezra does not know and sanction, that thing is heresy, worthless for knowing and wicked to consider.
...
Such is our comfortable tradition and sure faith. Would he not betray himself as an alien cynic who should otherwise portray Main Street, or distress the citizens by speculating whether there may not be other faiths?"
Good night, Gracie.
-- Wednesday, August 2, 6:30 or so, Albany airport
The monitor says my United flight to Washington is delayed. Delayed how much? Oh, we don't know, maybe an hour or so. You might miss your flight out of Washington. I have my doubts: no United flight EVER takes off on time. Blank stare. Okay so fine, I'll go out front and hang out a little. And after the hanging out, wander back in to find it wasn't delayed at all and loading, and if I'd hung a few minutes longer I'd have missed it entirely. Nice.
-- Wednesday, August 2, real real late, some airport, Washington, D.C.
Now this, THIS is what you call a delayed flight. 3 hours. And it wasn't even mine. Mine was cancelled. This was someone else's delayed flight. The cleaning crew is closing the terminal down. We're the last gate with any people, and some of the people are very cranky people, probably because their tired kids are bawling, kicking, and otherwise carrying on. Hope they're in the "No screaming kids" section of the plane so I can sleep. What a joy this flying business is, especially when one has been away from home for the better part of a week. What a great flying summer so far.
-- Thursday, August 3, real real early, Chicago O'Hare
Mmmmmm ... nice crisp, cool, relatively dry air here. Especially at 2:30am. Not too much traffic at this hour, either. Glad to be home.